MONT BLANC TRAIL RUNNING CAMP Coming Soon
€2,997.00
This is an 8 day Tour around Mont Blanc covering 170 Km (105 miles) and 10,000 m (33,000 ft) of elevation gain and descent. We will be covering around 28km (17 miles) per day with lots of elevation gain meaning that we will be moving for around 6-8 hours per day and sleeping overnight in village hotels and mountain huts.
– Limited to 12 Spots
– Pay the Deposit to Reserve Spot
Only 5 left in stock
Description
Mont Blanc Trail Running Camp 2023
August 2023 (8 Days) Coming Soon
This is one of the most famous trail running routes in the world, and a place for many to attempt the challenging UTMB route. Circle the highest summit in Western Europe in just 7 days of trail-running and power hiking. We will start in the Chamonix Valley overlooking Mont Blanc and run through France, Italy, and Switzerland with iconic Alpine vistas, high mountain passes, glaciers, lakes and quiet meadows. Experience the Alps whilst running with breathtaking mountain scenery, reflected in mirror-like Swiss lakes, visit the classic resort towns of Courmayeur and Chamonix, and spend each night sleeping comfortably in charming mountain huts and lodges.
This is an 8 day Tour around Mont Blanc covering 170 Km (105 miles) and 10,000 m (33,000 ft) of elevation gain and descent. We will be covering around 28km (17 miles) per day with lots of elevation gain meaning that we will be moving for around 6-8 hours per day and sleeping overnight in village hotels and mountain huts. You will be guided by a team of experienced Ultra Marathon Runners, who will accompany you on your journey exploring the mountains, forests, and roaring rivers of the mountain range.
Difficulty: The tour is challenging, rewarding and enjoyable, there will be long and steep runs but still time to relax, to recover and to have a beer in the afternoon.
Brief Itinerary:
8DAYS – 170KM – 10.000m+ FR/IT/CH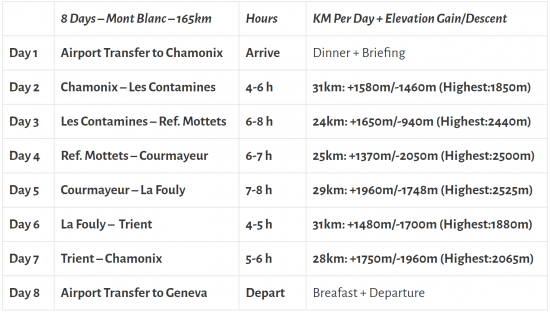 We recommend you come a 1-2 days earlier so you can visit Mer de Glace (+ice caves) and take the highest cable car of the Aiguille du Midi (3,842 m) or Grands Montets (3,295 m). These options are also great to get some elevation acclimatization by spending 2-3 hours high up.
3D Route Preview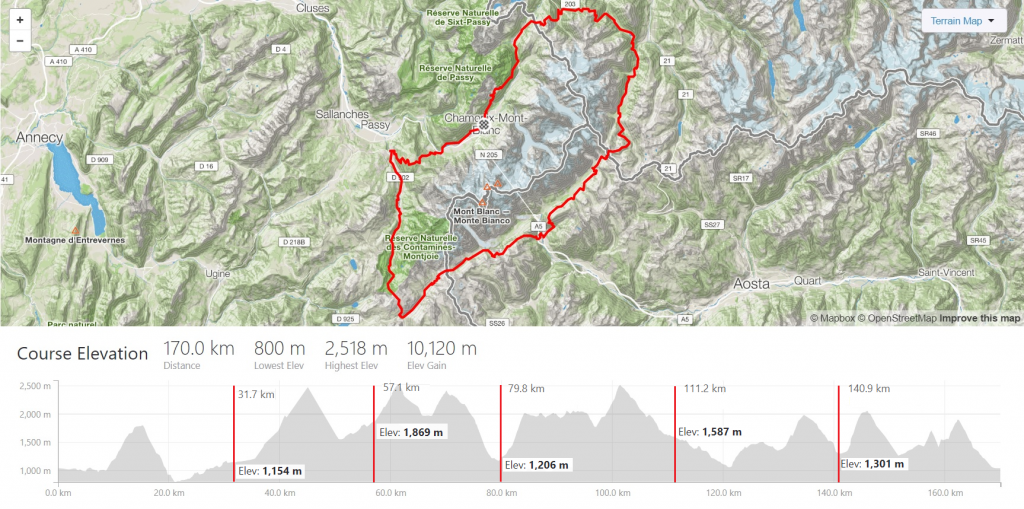 What to Expect / Difficulty Level?
Meet trail running lovers from all over the world and become familiar with the UTMB 170km course.
Multi-Day Mountain Trail Run covering 168km and 10,0

00m

+/- elevation gain and descent
Will be going at an easy pace doing ~28km (18miles) per day, with ascents/descents of more than 1,000 meters (3,000 feet)
Expect to be moving (physically active) for 6 – 8 hours a day, with steep elevation and rocky terrain.
The maximum altitude height will be 2600m.
You may experience "high mountain" weather, requiring you to keep moving in rain, wind, and even some snow.
If for some reason you do not want to run someday, on some days only, there are alternatives to join the group at the next point, using a support vehicle or local transport. Either way, you can enjoy your day, with an easy trekking route, read a book or just enjoy the landscape and silence of the mountains.
What Experience/Training Level is Recommended?
To participate in a comfortable way and enjoy the tour requires a certain level of fitness.
You're an experienced trail runner with at least 3 years of committed trail running in the bank
You can run & fast hike for most of a day, allowing for break time.
You don't mind several big climbs and descents of at least 3,000 feet(1000m) each.
You might have successfully tackled a trail marathon.
Is this for me? you should be in good physical condition, accustomed to running and walking in the mountains, and be able to do it comfortably at least 4 hours a day.
If you have any doubts, please contact us, we will be happy to help you and see if this adventure is for you.
Who is this for?
People who want to meet trail runners from all over the world to learn and share your passion
Runners who need to get a week of serious training in the mountains
Runners looking for a good challenge in beautiful but also a demanding environment
Runners looking for ideal preparation for an ultramarathon such as UTMB
Runners looking to become familiar with UTMB 170km course.
Runners who want become part of our trail running family
Runners looking to an unforgettable running holiday
Booking Conditions
Limited to 12 Spots
Price: 2,597 EUR

A 500 EUR deposit is required at time of booking to secure a place

Full payment is due 45 days from the start of the trip. 

You can cancel this booking for free before August 2023

A waiver form must be signed after booking to complete your reservation.
What's included in this tour?
Trail Running Tours T-shirt
Transportation from Geneva Airport to Chamonix & Back
7 Nights in 6 different mountain huts & village hotels (17th–24.9.2019)
All Accommodation is in shared rooms
(Single room supplement is available in some hotels for an extra fee 400 EUR but please note that due to availability, it is only for 3 of the 7 nights in Chamonix & Courmayeur)
All meals during the tour (Breakfast and dinner), lunch will be a packed lunch.
Transfer of daily luggage when running Hut to Hut
6 days of training given by Trail Running Tours Team
The running camp will be held in English
All running levels are welcome
What's NOT included in this tour?
Flights to Geneva
Insurance for travel, medical and other emergencies. All participants must have appropriate valid travel insurance for adventure activities (running, trail-running, hiking, trekking) accident insurance, air rescue, repatriation, trip cancellation, etc. Similar to this https://itra.run/page/353/Insurance.html insurance or https://www.globalrescue.com/
Snacks, bars, gels, salts, energy in general for a day in the mountains – we recommend bringing dried fruit, nuts, energy bars, gels (more information on the travel list that is sent)
Alcoholic and non-alcoholic beverages are not included
Extra expenses, massages, etc
Any extra accommodation
Accommodation & Food & Luggage
Accommodation: varies from mountain huts to hotels. In the main village hotels of Chamonix and Courmayeur, it will be shared twin rooms. In other remote mountain hotels, rooms choices are very limited, you will sleep in shared dormitory style bunk beds. Single occupancy is available for an additional cost – also because of limited availability, single occupancy is only available in the main villages of Chamonix and Courmayeur, all others are shared.
Food: The mountains huts we will have at will have food for purchase, so no worries about food just take snacks, which you like to have on the runs during the day. As for breakfast and dinner, all of that is included.

There are blankets and pillows available, but you need to take your own sleeping bag liner.
Accommodation Summary (7 Nights)
6 nights at village hotels half board and 1 night at a remote mountain hut. All Accommodation is in shared rooms. Please note that due to limited availability, the single supplement (500eur extra fee) is only available for a single room in Chamonix and Courmayeur only – 3 of the 5 nights.
Day 1: Hotel Refuge des Aiglons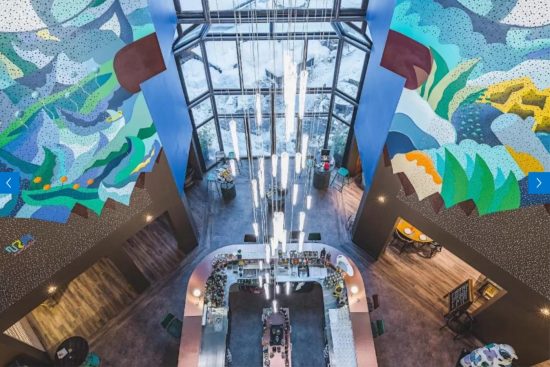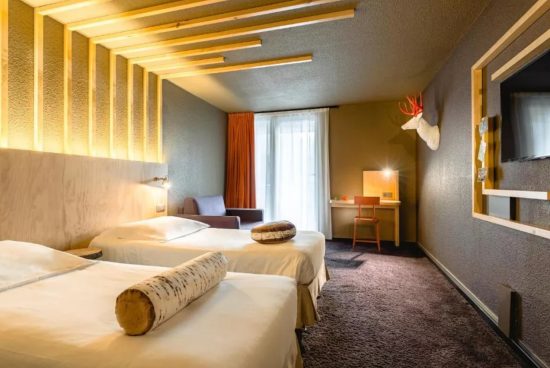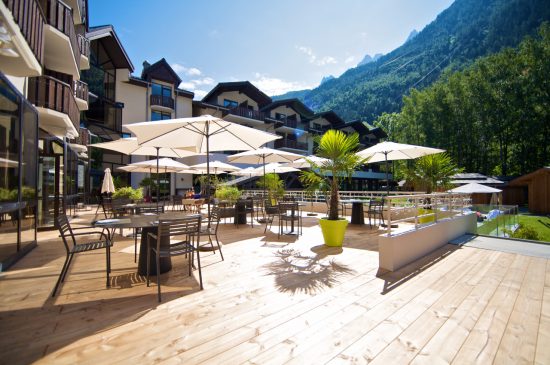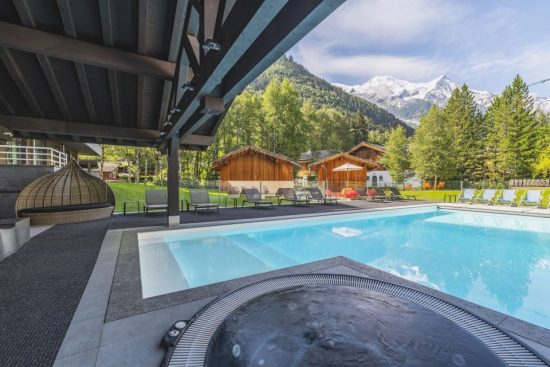 Day 2: Hotel Gai Solei
Shared Rooms – Twin- Family-Single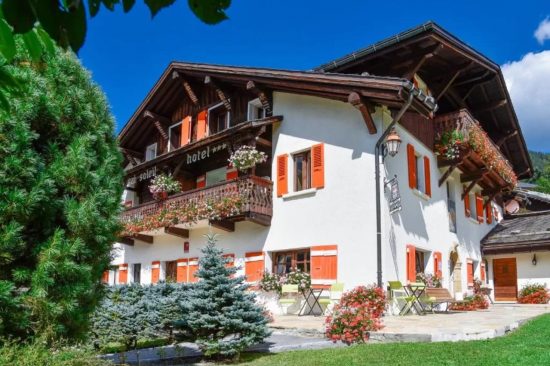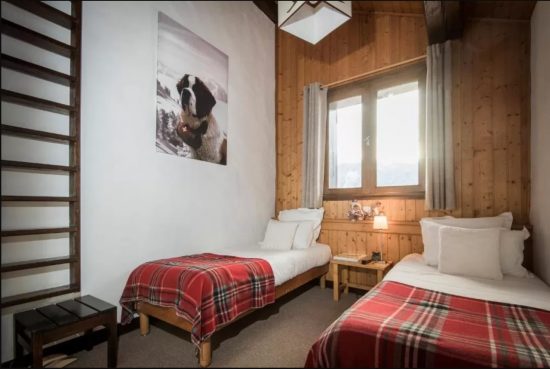 Day 3 – Refugio Des Mottets
Shared 4-bed dormitory bunk beds or Large Dorm

Day 4 – Gran Baita Hotel & Wellness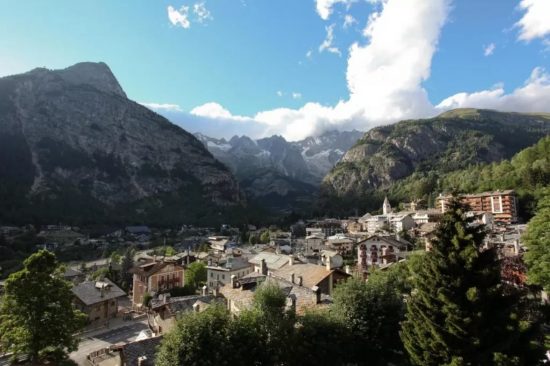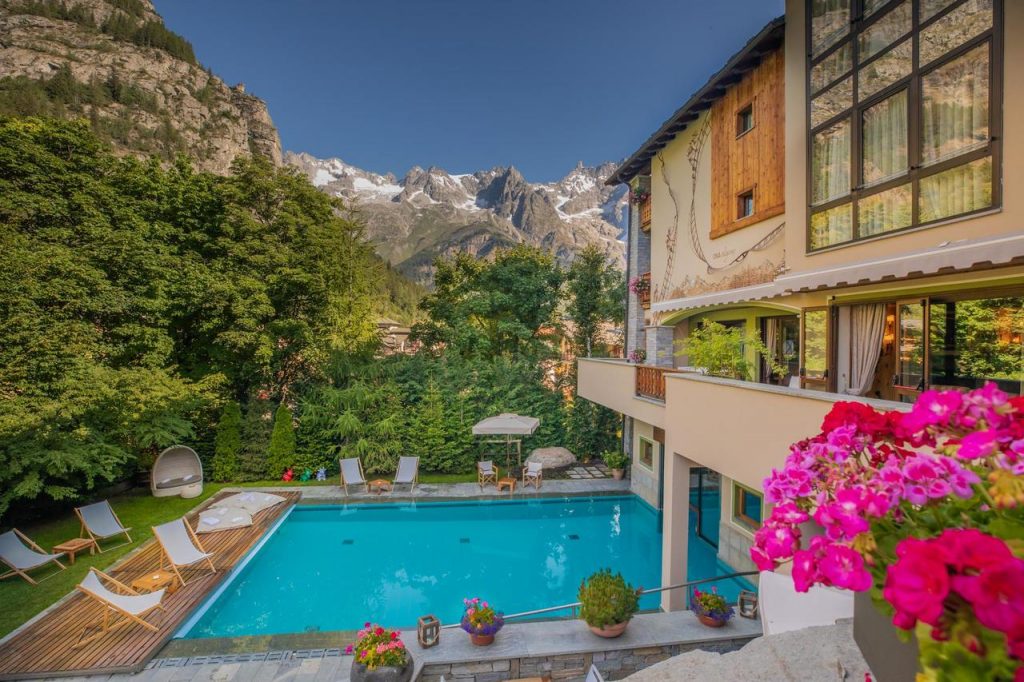 Day 5 – Hotel Edelweiss (La Fouly)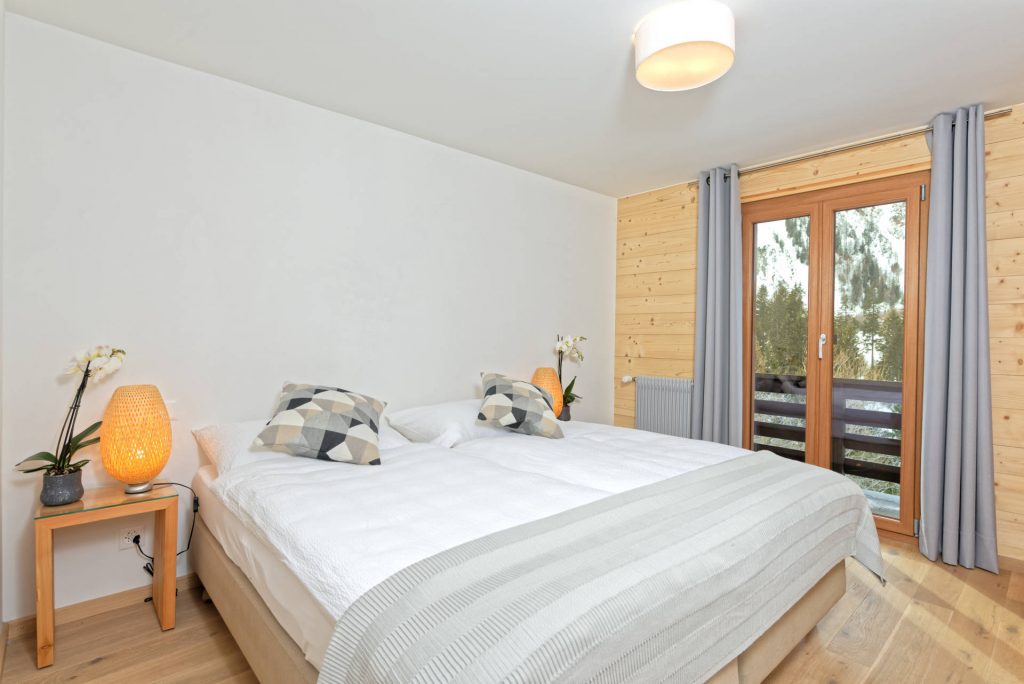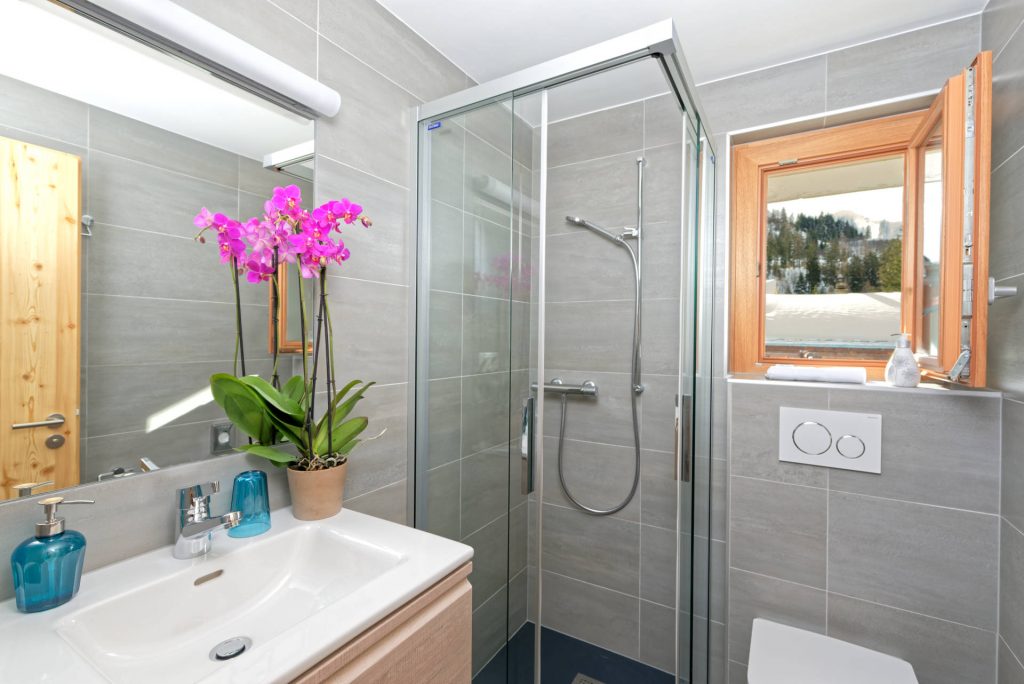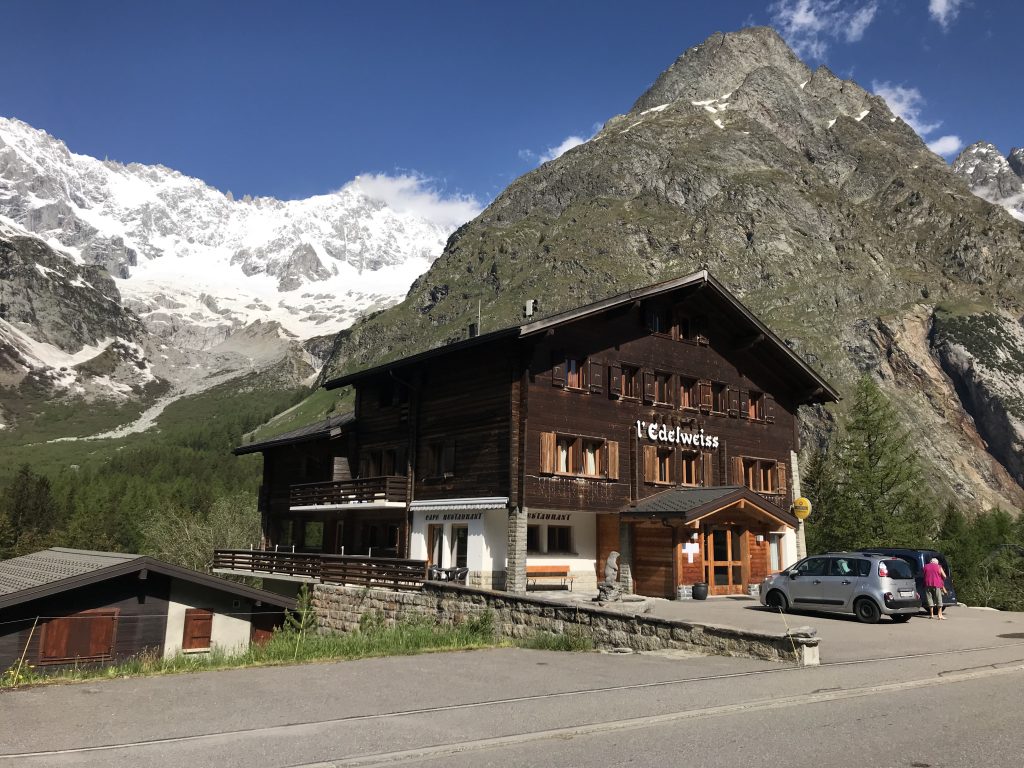 Day 6 – La Grande Ourse (Trient)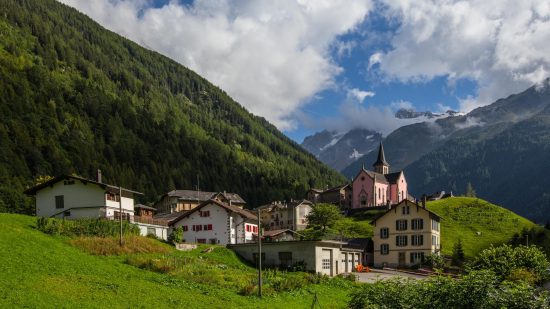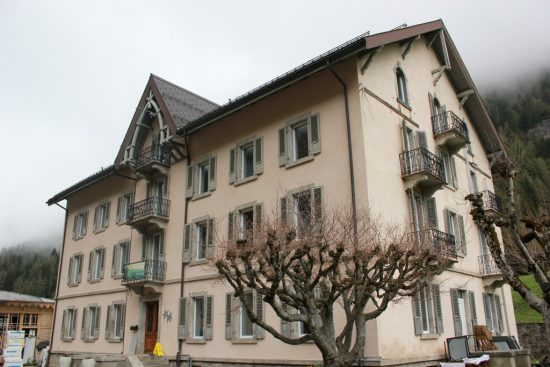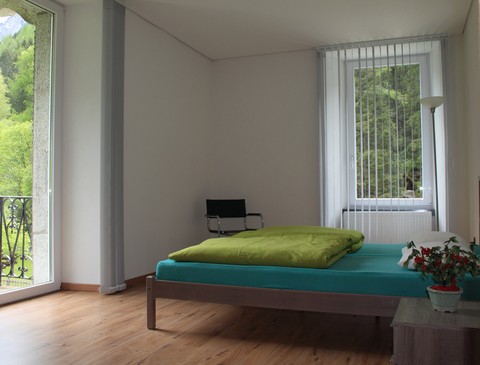 Day 7 – Hote Refuge Des Aiglons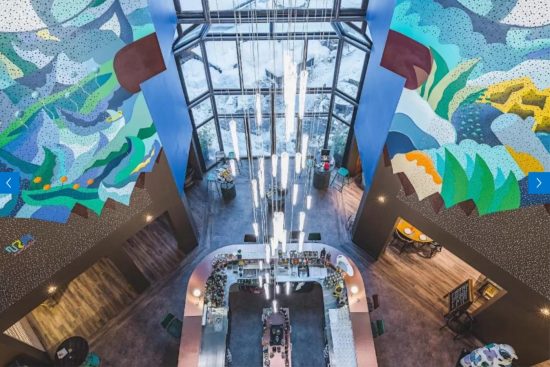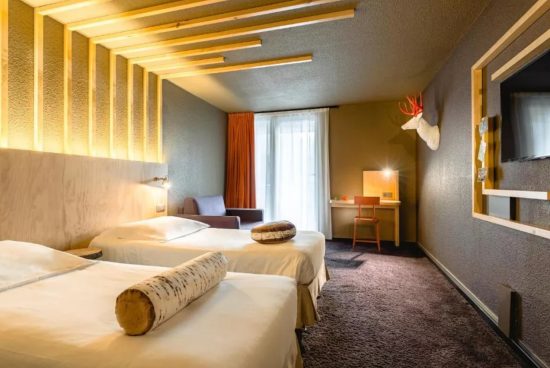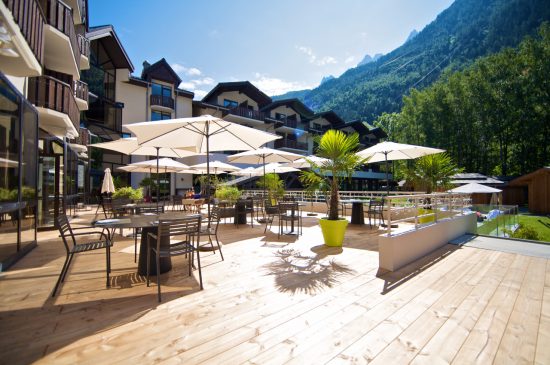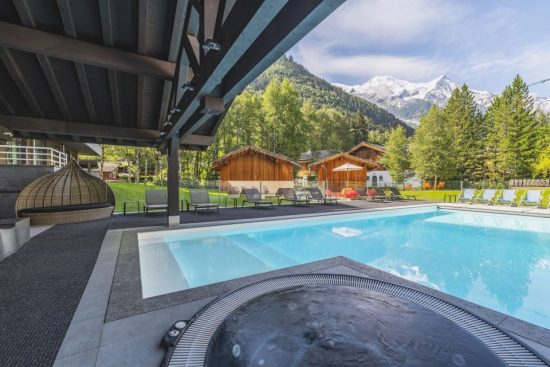 Tour Daily Schedule Summary
| | | | |
| --- | --- | --- | --- |
| | 8 Days – Mont Blanc – 165km  | Hours | KM Per Day + Elevation Gain/Descent |
| Day 1  | Airport Transfer to Chamonix | Arrive | Dinner + Briefing |
| Day 2 | Chamonix – Les Contamines  | 4-6 h | 31km: +1580m/-1460m (Highest:1850m)  |
| Day 3 | Les Contamines – Ref. Mottets  | 6-8 h | 24km: +1650m/-940m (Highest:2440m) |
| Day 4 | Ref. Mottets – Courmayeur | 6-7 h | 25km: +1370m/-2050m (Highest:2500m) |
| Day 5 | Courmayeur – La Fouly  | 7-8 h | 29km: +1960m/-1748m (Highest:2525m)  |
| Day 6 | La Fouly –  Trient   | 4-5 h | 31km: +1480m/-1700m (Highest:1880m) |
| Day 7 | Trient – Chamonix   | 5-6 h | 28km: +1750m/-1960m (Highest:2065m)  |
| Day 8 | Airport Transfer to Geneva | Depart | Breakfast + Departure |
Accommodation Schedule Summary
| | | |
| --- | --- | --- |
|  7 Nights  | Room Type in Hotels & Huts | Food (Half Board) |
| Chamonix | Shared Hotel Twin Rooms | Dinner |
| Les Contamines | Shared Hotel Mixed Type Rooms | Breakfast & Dinner |
| Ref. Mottets (Hut) | Shared 4-Bed Dorm Bunk Beds | Breakfast & Dinner |
| Courmayeur  | Shared Hotel Twin Rooms | Breakfast & Dinner |
| La Fouly | Shared Hotel Twin Rooms | Breakfast & Dinner |
| Trient  | Shared Hotel Twin Rooms | Breakfast & Dinner |
| Chamonix | Shared Hotel Twin Rooms | Breakfast & Dinner |
| | | |
Detailed Mont Blanc Running Itinerary:
DAY 1: Transfer Geneva Airport to Chamonix

Transportation from Geneva airport to Chamonix. Depending on when you arrive in Chamonix there will be time to spend around Chamonix village, shopping or relaxation in the pool or patio of the hotel in Chamonix. In the evening we will have an informative talk, followed by a welcome dinner.
DAY 2: Chamonix - Les Contamines  - 31Km +1580m

We start our massive journey from the Alps of Chamonix to Les Gaillands and towards Les Houches. From this village, we will take the steep trail to Chemin du Delevret and Col du Voze. Then we'll descend until we reach Saint Gervais Les Bains. After a small climb through lovely nature, we reach our first overnight destination near Les Contamines.
DAY 3: Les Contamines - Ref. Mottets - 24Km +1650m

We go along the river with flat paths leading us to the Church of Notre Dame de la Gorge, and then begin a steep climb to Col du Bonhomme. Further up at Croix de Bonhomme we reach the second point at 2,440 meters. Here we'll enjoy the views of the lovely valleys on both sides. Then a nice and easy path takes us downhill towards Les Chapieux, from here we will head to our refuge for the night along a mixed path and a growing slope towards Refuge des Mottets at 1,864m.
DAY4: Ref. Mottets - Courmayeur - 25Km +1370m 

We start steep with great views to help us and finally cross the border into Italy at Col de la Seigne. The views of the French and the Italian valleys will open and we\ll descend to the Italian Val Veny. The valley is usually covered in yellow flowers with lovely glaciers descending off Mont Blanc. A flat path will take us to the steep trail towards the ridge on Mont Favre and then on to the Col Checrouit with a final steep descent to Courmayeur town. Courmayeur is a good place to rest after almost 80km and 4600m+ elevation gain and descents.
DAY 5: Courmayeur - La Fouly - 29Km +1960m

We start the day with the ascent towards Rifugio Bertone from Courmayeur and then follow a flatish easy trail towards Rifugio Bonatti. We then descent and we go up to Rifugio Elena for a coffee or a drink. We'll continue our long ascent between towards Gran Col Ferret (where the border is). You will see breathtaking views of the Italian and Swiss valleys. Then followed by a beautiful wavy descent will get to our accommodation in La Foully.
DAY 6: La Fouly - Trient - 31Km +1480m
Our descent starts from and the very old village of Praz de Fort and from there we'll continue our ascending path towards Champex Lac. After Champex Lac we go through forests on an easy path up until Plan de l'Au, here our steep ascent begins traversing around the mountain to la Giete. From the highest point, we will take a downhill towards Col de la Forclaz and continue our downhill to the last Swiss village Trient.
DAY 7: Trient - Chamonix - 28 Km +1750m
A steep climb awaits us before we can get down to Vallorcine, where will be back in France and close to our final destination. We'll be taking a beautiful path until we reach Col des Montets, here will begin one of the steepest climbs of the route. Fantastic views of Mont Blanc are on the way and Aiguilles Rouges. We traverse the mountain start our last descent towards La Flegere and then to Chamonix. We have reached the end of an epic journey!  We finish the day with a celebration and a farewell dinner.
DAY 8: Transfer from Chamonix to Geneva Airport
Last breakfast together and pack our memories for transfer to the airport